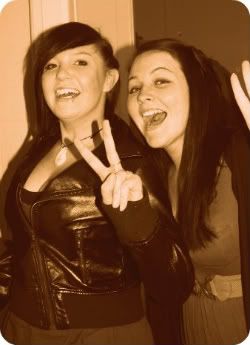 I went out on Saturday night for a friends birthday. It was horrible planning on our part. We wanted to be in the city by 9. We didn't leave the house until 8:30. We got in there at 10:30. Apparently cover charge starts at 10.
We were let in by 11. It cost us $25 to get into the place and we had to wait until 11:30 for the DJ to come down and let Matt in.
I think we stayed all of two hours before we made our way to the station to go home. We caught the train to central station and then we had to catch the night rider home. I think it will be a very long time before I do anything like that again.
But anyway, here is a pic of my dear friend Bec (on the left) and myself. My first time in a dress since forever ago.